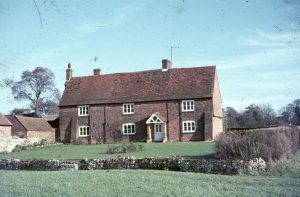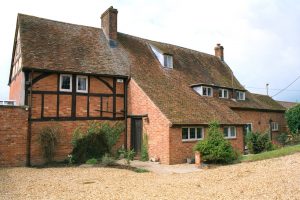 1999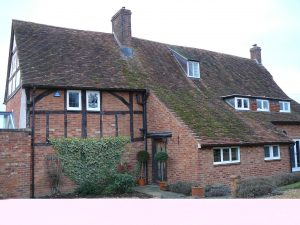 2010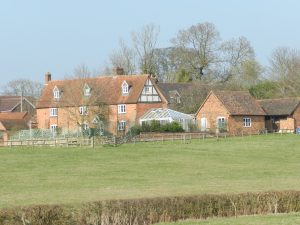 2012
(The vast majority of houses in Thornborough Road were built on land belonging to Barracks Farm, to see legal documents referring to the sale of this land click here.)
Barracks Farmhouse
House. 2 late C16-C17 bays, extended one bay to north and to rear C18-C19, refronted C19. Original bays timber framed with frame partly exposed to rear. Extensions and front wall are of brick with some chequer brick and rubble stone to north gable. Old tile roof, brick chimneys to left gable and between right-hand bays. 2 storeys and attic, 3 bays. W. front has C19 3-light wooden casements. Lobby entry between right-hand bays has half-glazed door and gabled brick porch with wavy bargeboards. All ground floor openings have cambered heads. Attic has windows in gables and paired leaded casement in rear dormer. Single storey extension to north, lean-to to rear. Interior has large double-sided fireplace with moulded stone Tudor arches.
English Heritage
Celebrated for its Civil War connections;
"Nash, A Buckinghamshire Village", Duncan C. and King J, 1987.
Mr and Mrs R Dudgeon and Mr Tim; Christine Hope and Fiona McKenan
1982 Nash WI Scrapbook.
Mrs Ingram
1965 Nash WI Scrapbook.
| | | | |
| --- | --- | --- | --- |
| Year | Surname | Forename | Address |
| 1950 | Mitchell | Beatrice A | Barracks Farm |
| 1950 | Mitchell | Herbert | Barracks Farm |
| 1950 | Rolston | Elizabeth L | Barracks Farm |
1950 Nash Register of Electors
| | | | |
| --- | --- | --- | --- |
| Year | Surname | Forename | Address |
| 1945 | Hall (Wall?) | John Thomas | Barracks Farm |
| 1945 | Wall | Frederick A | Barracks Farm |
| 1945 | Wall | John T, snr | Barracks Farm |
| 1945 | Wall | Mavis | Barracks Farm |
1945 Nash Register of Electors
| | | | | | | | |
| --- | --- | --- | --- | --- | --- | --- | --- |
| Year | Surname | Forename | Address | Absent voter | Parliamentary qualification | Local Government qualification | Juror |
| 1939 | Wall | John Thomas | Barracks Farm | | R | O | |
| 1939 | Wall | Mavis | Barracks Farm | | Rw | Dw | |
1939 Nash Register of Electors
Gaius BECKETT "Barracks Farm'
1931 Kelly's Trade Directory
| | | | | | | | |
| --- | --- | --- | --- | --- | --- | --- | --- |
| Year | Surname | Forename | Address | Absent voter | Parliamentary qualification | Local Government qualification | Juror |
| 1930 | Beckett | Edward Joseph | Barracks Farm | | R | O | J |
| 1930 | Beckett | Elsie Mary | Barracks Farm | | Rw | Dw | |
1930 Nash Register of Electors
Gaius BECKETT "Barracks Farm'
1928 Kelly's Trade Directory
Gaius BECKETT "Barracks Farm'
1924 Kelly's Trade Directory
| | | | | | | |
| --- | --- | --- | --- | --- | --- | --- |
| Year | Surname | Forename | Address | Absent voter | Parliamentary qualification | Local Government qualification |
| 1922 | Beckett | Edward Joseph | Barracks Farm | | R | |
| 1922 | Beckett | Gaius | Barracks Farm | | R | O |
| 1922 | Beckett | Harriet Tracey | Barracks Farm | | HO | HO |
| 1922 | Beckett | Gilbert | Barracks Farm (joint) | | R | O |
1922 Nash Register of Electors
Gaius BECKETT "Barracks Farm'
1920 Kelly's Trade Directory
| | | | | | | |
| --- | --- | --- | --- | --- | --- | --- |
| Number | Surname | Forename | Residence | Absent voter | Parliamentary qualification | Local Government qualification |
| 5 | Beckett | Gaius | Barracks Farm | | R | O |
| 6 | Beckett | Harriet Tracey | Barracks Farm | | HO | HO |
| 111 | Beckett | Edward Joseph | Barracks Farm | Y | NM | |
1918 Nash Register of Electors
| | | | | | | | | |
| --- | --- | --- | --- | --- | --- | --- | --- | --- |
| Year | Surname | Forename | Property situated | Abode | Qualification | Parliamentary qualification | Local Government qualification | Parochial elector |
| 1915 | Beckett | Gaius | In the village. | Nash | Land and tenement. | | Y | Y |
| 1915 | Beckett | Gaius | Winslow Road | Barracks Farm | Four freehold cottages. | Y | | Y |
1915 Nash Register of Electors
Gaius BECKETT "Barracks Farm'
1915 Kelly's Trade Directory
| | | | | | | | | | | | | | | | | | | | |
| --- | --- | --- | --- | --- | --- | --- | --- | --- | --- | --- | --- | --- | --- | --- | --- | --- | --- | --- | --- |
| No. of Schedule | Address from census return | Address from Enumerator's summary | Number of rooms | Forename | Surname | Relation | Males | Females | Condition | Completed years of present marriage | Total children born alive | Children still living | Children who have died | Personal Occupation | Industry or service with which worker is connected. | Employer, Worker or Own account | Working at Home | Where born | Nationality of every person born in a foreign country |
| 60 | Barracks Farm | Nash Barracks Farm | 10 | Gaius | Beckett | Head | 50 | | Married | | | | | Farmer | | Employer | | Steeple Claydon, Bucks | |
| 60 | Barracks Farm | Nash Barracks Farm | 10 | Tracie | Beckett | Wife | | 51 | Married | 29 | 7 | 6 | 1 | | | | | Steeple Claydon, Bucks | |
| 60 | Barracks Farm | Nash Barracks Farm | 10 | Mabel | Beckett | Daughter | | 21 | Single | | | | | | | | | Nash, Bucks | |
| 60 | Barracks Farm | Nash Barracks Farm | 10 | Edward | Beckett | Son | 16 | | Single | | | | | Farmer's son working on Farm | | Worker | | Nash, Bucks | |
| 60 | Barracks Farm | Nash Barracks Farm | 10 | Gilbert | Beckett | Son | 10 | | | | | | | School | | | | Nash, Bucks | |
1911 census
Occupiers – Gaius Beckett; Owners – Hy Ar Jones, 6 Arkwright Rd, Fitz Johns Avenue, Hampstead, London; House, buildings, land; Barracks Farm
Estimated Extent – house 0.75 rods; land – 74 acres 1.25 rods
Gross Annual Value – house – £12; buildings – £9; land – £119
Rateable Value – £9/12/6d; buildings £7/5/-; land – £113
1910 Valuation Office Survey
Gaius BECKETT "Barracks Farm'
1907 Kelly's Trade Directory
Gaius BECKETT "Barracks Farm'
1903 Kelly's Trade Directory
| | | | | | | | | | | | | | |
| --- | --- | --- | --- | --- | --- | --- | --- | --- | --- | --- | --- | --- | --- |
| No. of Schedule | Place | Number of rooms occupied if under 5 | Forename | Surname | Relation | Condition | Males | Females | Profession or Occupation | Employer, Worker or Own account | Working at Home | Where born | Disability |
| 28 | Barracks Farm | | Gaius | Beckett | Head | Married | 41 | | Farmer | Employer | | Claydon, Bucks | |
| 28 | Barracks Farm | | Tracy | Beckett | Wife | Married | | 42 | | | | Claydon, Bucks | |
| 28 | Barracks Farm | | Kate | Beckett | Daughter | Single | | 15 | | | | Nash, Bucks | |
| 28 | Barracks Farm | | Herbert | Beckett | Son | Single | 13 | | Farmer's Son | Worker | | Nash, Bucks | |
| 28 | Barracks Farm | | Mabel | Beckett | Daughter | Single | | 11 | | | | Nash, Bucks | |
| 28 | Barracks Farm | | Edward | Beckett | Son | Single | 6 | | | | | Nash, Bucks | |
| 28 | Barracks Farm | | Gilbert ? | Beckett | Son | Single | 11 months | | | | | Nash, Bucks | |
1901 census
Gaius BECKETT "Barracks Farm'
1899 Kelly's Trade Directory
Gaius BECKETT "Barracks Farm'
1895 Kelly's Trade Directory
Gaius BECKETT "Barracks Farm'
1891 Kelly's Trade Directory
| | | | | | | | | | | | | | | |
| --- | --- | --- | --- | --- | --- | --- | --- | --- | --- | --- | --- | --- | --- | --- |
| No. of Schedule | Place | Rooms | Forename | Surname | Relation | Condition | Males | Females | Job | Employer | Employed | Neither Employer nor Employed | Where born | Disability |
| 53 | The Barracks | | Gaius | Becket | Head | Married | 31 | | Farmer | | | x | Steeple Claydon, Bucks | |
| 53 | The Barracks | | Tracy | Becket | Wife | Married | | 32 | | | | | Steeple Claydon, Bucks | |
| 53 | The Barracks | | Arthur A. | Becket | Brother | Single | 22 | | Farmer | | | x | Steeple Claydon, Bucks | |
| 53 | The Barracks | | Elizabeth T. | Becket | Daughter | | | 7 | Scholar | | | | Steeple Claydon, Bucks | |
| 53 | The Barracks | | Winbuad | Becket | Daughter | | | 5 | Scholar | | | | Steeple Claydon, Bucks | |
| 53 | The Barracks | | Herbert G. | Becket | Son | | 3 | | | | | | Steeple Claydon, Bucks | |
| 53 | The Barracks | | Mabel | Becket | Daughter | | | 1 | | | | | Steeple Claydon, Bucks | |
1891 census
| | | | | | | | |
| --- | --- | --- | --- | --- | --- | --- | --- |
| Year | Surname | Forename | Address | Abode | Qualification | Parliamentary qualification | Local Government qualification |
| 1890 | Beckett | Gaius | Barracks Farm House | Nash | Dwelling house. | Y | Y |
1890 Register of Electors
Thomas COLEMAN Farmer 'Barracks Farm'
1887 Kelly's Trade Directory
| | | | | | | | | | | |
| --- | --- | --- | --- | --- | --- | --- | --- | --- | --- | --- |
| No of Schedule | Place | Forename | Surname | Relation | Condition | Males | Females | Job | Where born | Disability |
| 50 | Barracks Farm | George | Norman | Head | Married | 39 | | Farmer | Granborough, | |
| 50 | Barracks Farm | Mary | Norman | Wife | Married | | 37 | | Fenny Stratford | |
| 50 | Barracks Farm | Kate | Norman | Daughter | | | 13 | Schoolar | Luton, Beds | |
| 50 | Barracks Farm | Harvey | Norman | Son | | 11 | | Schoolar | Luton, Beds | |
| 50 | Barracks Farm | Nellie | Norman | Daughter | | | 7 | Schoolar | Luton, Beds | |
| 50 | Barracks Farm | Edward | Norman | Son | | 7 | | Schoolar | Luton, Beds | |
| 50 | Barracks Farm | John William | Norman | Son | | 5 | | Schoolar | Luton, Beds | |
| 50 | Barracks Farm | Levi | Norman | Son | | 2 | | | Nash | |
| 50 | Barracks Farm | Infant | Norman | Son | | Ten Days | | | Nash | |
| 50 | Barracks Farm | Elizabeth | Illing | Nurse | Married | | 53?? | Nurse | Nash | |
1881 census
| | | | | | |
| --- | --- | --- | --- | --- | --- |
| Year | Surname | Forename | Property situated | Abode | Qualification |
| 1881 | Norman | George | On the Green | Nash | Copyhold cottages. |
1881 Register of Electors
| | | | | | | | | | | |
| --- | --- | --- | --- | --- | --- | --- | --- | --- | --- | --- |
| No. of Schedule | Place | Forename | Surname | Relation | Condition | Males | Females | Job | Where born | Disability |
| 64 | Barraks Farm | William George | King | Head | Unmarried | 22 | | Farmer of 13 Acers, employing 6 Labourers | Fenny Stratford, Bucks | |
| 64 | Barraks Farm | James | King | Brother | Unmarried | 13 | | Scholler | Bletchley, Bucks | |
| 64 | Barraks Farm | Ann | Clark | Servant | Unmarried | | 35 | Servant | Shenley, Bucks | |
| 64 | Barraks Farm | Bernard | Smith | Servant | Unmarried | 20 | | Servant – Farm, indoors | Nash, Bucks | |
1871 census
(Possible, not certain)
| | | | | | | | | | | |
| --- | --- | --- | --- | --- | --- | --- | --- | --- | --- | --- |
| No. of Schedule | Place | Forename | Surname | Relationship | Condition | Males | Females | Job | Where Born | Disability |
| 91 | | Geo | Smith | Head | Married | 48 | | Farmer 11 Acers | Nash | |
| 91 | | Mary | Smith | Wife | | | 46 | Lace Maker | Nash | |
| 91 | | Thos | Smith | Son | Single | 17 | | Ag. Labourer | Nash | |
| 91 | | Sarah | Smith | Daughter | | | 14 | Lace Maker | Nash | |
| 91 | | Wm | Smith | Son | | 11 | | Scholar | Nash | |
| 91 | | Ann | Smith | Daughter | | | 8 | Scholar | Nash | |
| 91 | | Eliza | Smith | Daughter | | | 6 | Scholar | Nash | |
1861 census